The musician and songwriter David Danford, known to friends and associates as "Bosco" was born March 23, 1961 in Greenpoint, Brooklyn, the youngest of four sons of Thomas Danford, a Brooklyn police officer, and his wife, Beatrice, a homemaker. A precocious child with a humorous, quick wit, Danford sang in the choir and was an altar boy at St. Cyril & Methodius Church, prior to graduating from Archbishop Malloy High School, in 1979.
Having taught himself bass guitar in order to participate in the Lower East Side's punk rock movement, he joined the punk group UXA, with whom he traveled to Los Angeles in 1980. When the group broke up, he was recruited by future Nirvana guitarist Pat Smear to join the Darby Crash Band. The band was together only a few months before lead singer Crash (formerly of L.A. punk band the Germs) committed suicide with a heroin overdose, addressing his suicide note to Bosco. Returning to New York, Bosco became part of the early-1980s scene at 171 Avenue A, an improvised storefront studio and performance space where groups such as the Bad Brains and the Beastie Boys made their first recordings.
Friends since childhood with two of the Beastie Boys, Michael (Mike D) Diamond and Adam (MCA) Yauch, Bosco led two groups in the 1980s that included Diamond as the drummer. The first of these groups, a Beatles- and Bowie-influenced rock band called Big Fat Love, grew out of jam sessions held at a dilapidated Upper West Side building called the "Hell House", and featured ex-Beastie Boy bassist John Berry, and slide guitarist Eric Hubel. A CD entitled "Hell House" (with Erik Talbert replacing Diamond on drums on some later recordings) was released on the Beasties' Grand Royal label, in 1997.
In the mid 1980s, Bosco encountered early jazz, in particular, the music of Louis Armstrong, King Oliver, Jelly Roll Morton, and Fletcher Henderson. He obtained a cornet and began leading a punk-influenced traditional jazz band, the Flophouse Society Orchestra, in 1986. The group included Diamond on drums, as well as future Black 47 trombonist Fred Parcells, Hubel on banjo, and Jay Wasco on piano. (Trombonist Jeff Baker later replaced Parcells.) The raucous, yet surprisingly orthodox band was an instant hit with the irony-craving downtown party crowd at venues such as Odeon and MK. A later incarnation of the group included alto saxophonist Sandra Koponen, trombonist Greg Robinson, and drummer Talbert, in addition to Hubel and Wasco; this lineup enjoyed a weekly engagement at the Ludlow Street Café in the summer of 1989.
In 1987, the same year that the Clash's Mick Jones produced studio sessions for Big Fat Love, Danford married Catherine Costes, a beautiful French airline worker. In 1991, he broke up the Flophouse Society Orchestra and moved with his wife to Fort-de-France on the Caribbean island of Martinique, where he played trumpet in marching and zouk bands. After separating from Catherine and returning to New York in 1998, he found work as a mailroom supervisor in a midtown Manhattan office building, and studied trumpet and music theory with jazz greats Jimmy Owens and Dr. Donald Byrd. A proud Catholic, he also took an interest in the esoteric Christianity of G.I. Gurdjieff, and participated in a Gurdjieff study group.
He returned to performing in the late 1990s, debuting new songs with Big Fat Love at Coney Island High and other downtown venues. He released a solo CD, "Bosco's Tales of Greenpernt Fiddlin'", on his own Dave and Confused label, in 2001 (reissued a year later on Ratcage Records). In 2002, he formed a sextet to perform arrangements of traditional songs he had learned in Martinique as well as tunes by his trumpet idol, Lee Morgan, songs by the French pop star Serge Gainsbourg, and his own jazz and pop originals. When that group failed to take off, he joined Robinson's trio for weekly gigs at the East Village jazz bar Louis, in 2004. Bosco had nearly completed a second solo CD, at the time of his passing.
A connoisseur of life's finer things, as well as a battle-scarred veteran of its lowest depths, Bosco's death at 44 seemed an unjust reward for a life spent trying to open the eyes of those around him to life's greater possibilities, a mission he accomplished with humor, love, and impeccable artistic taste.
– Greg Robinson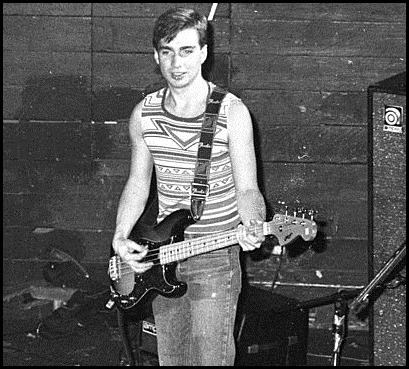 I had been thinking about Bosco because Martinique got hit by Hurricane Irma, and he lived there for a while, which crystallized a couple of thoughts about him and music–how totally out there and bastardized, in the best sense, deeply unique it was. I mean his sensibility. This dawned on me when I found myself thinking about Big Fat Love–those songs and that band, the whole thing, I was trying to find the liner notes I wrote for their record. And then it occurred to me that I was having these thoughts in New Orleans, which until I moved here I knew nothing about. I thought about his Flophouse Society Orchestra, their gig at the Odeon and I realized that when he wound his way through the tables of the Odeon with his trumpet, he was leading a second-line. A punk rock second line through the Odeon in Manhattan, with a top hat and trumpet. Total miscegenating madness! I was at his last show, or at any rate a late show, at the Mercury Lounge in which he rapped songs from his record… I just recall the song 'going to a meeting.' It was totally really good and also totally insane the way he sang and rapped it, the repetition. He had this weird ability to seem to go off key in a way that seemed really musical and on purpose. I suppose that was the punk rock part of him, like in that picture with him playing bass on stage with the Darby Crash Band, in which he seems very boyish, even preppy, a kind of openness to his smile, and then within it this devilish fuck-you. Going to a meeting was, in a way, also very ahead of its time. I believe he worked for a long time in a midtown mailroom, and in a roundabout way that was also Henry Miller's gig. No overt comparison. I am not trying to hang Henry Miller on Bosco or vice versa. But they both lived in places that spoke French while being from New York. I mention it because I sense there is some iconoclastic echo there, between those two, as well.
– Thomas Beller